Buckingham Associates, LLC
Providing advisory services and hands-on implementation support to grow revenues, reduce operating expenses, and now partnering with innovative solution providers of in-studio internet radio, podcasts and video blogs to create high-ROI marketing campaigns.
**************************************************************************
Welcome to Buckingham Associates. For over 12 years we have helped clients, domestically and internationally, reach their goals by improving operations, increasing revenues and reducing operating costs, now also including creating and administering high-ROI marketing campaigns using new media tools. We achieve this by employing proven, real-world solutions and effective implementation approaches. Our business includes two Divisions:
MANAGEMENT ADVISORY DIVISION:
This division serves clients in the Manufacturing/Sourcing, Distribution and Retailing of consumer products. (We also work with companies who sell goods and services to these segments). We perform diagnostic studies generally followed by implemention of real-world improvements in our client's operations areas.

Also, we work with very small, privately-owned companies (typically under five million annual revenue): (1) those who need help in preparing to approach sources of funding to fuel their growth; (2) small companies manufacturing or distributing consumer products who face significant challenges penetrating retail buyers; 3) companies selling products and services to manufacturers, distributors and retailers .
MARKETING DIVISION:
This division works with clients to create significant changes to marketing approaches. Our advisors help our clients navigate the world of "new media", creating and installing new campaigns and using new tools that can increase the ROI of marketing budgets by several fold.
Among the primary tools used by Buckingham Marketing Associates are 1) in-studio internet radio; 2) podcasts; 3) video blogs. Avoiding the pretenders, Buckingham has established relationships with top-drawer, professional providers of these tools. To be totally effective involves so much more than sitting in front of a microphone or camera. Our team works in an adviory role to identity options, create "new media" campaigns, and can provide turnkey "hands on" services as desired.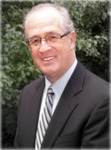 Bernie Wolford, Founder and President